CONTAINER WORKSHOP / LUBRICATION
External dimensions:
Length= 20 feet= 6058 mm
Width = 8 feet = 2438 mm
Height = 8.6 feet = 2591 mm
Support structure made of cold-drawn steel sheet, two pockets for handling.
Fixed in eight (08) corners.
SKID, connection type: removable
Insulation of all vertical walls and roof with high-density polyurethane panels, 50 mm of thickness for the vertical walls and floor and 70 mm for the roof.
Non-slip steel plate with 2 to 3 mm thickness.
Interior roof coating with smooth aluminum sheets.
Coating from the outside: Steel sheet stamped and galvanized.
Interior wall coatings: melamine resin plywood.
Protective layer: galvanized steel sheet.
Paint color: White (RAL 9010).
The container is divided into 03 compartments by two (02) bulkheads of transverse separation:
Compartment N ° 01: Office, depot for tools and cloakroom
Compartment N ° 02: Machine rooms (generator and compressor)
Compartment N ° 03: Maintenance Station.
Electrical installation of the container is 380V / 220 V-50 Hz:
Control panel with safety and control devices.
Lighting installation with LED bar in all three compartments.
A single-phase industrial plug (220V).
Three-phase industrial plug (380V).
A series of power at 220 V in compartment N ° 01 (Office) with three (03) plugs.
Ground connection with plugs and cables.
Electrical Fire-protected cables with special plastic tubes.
Two projectors for exterior lighting.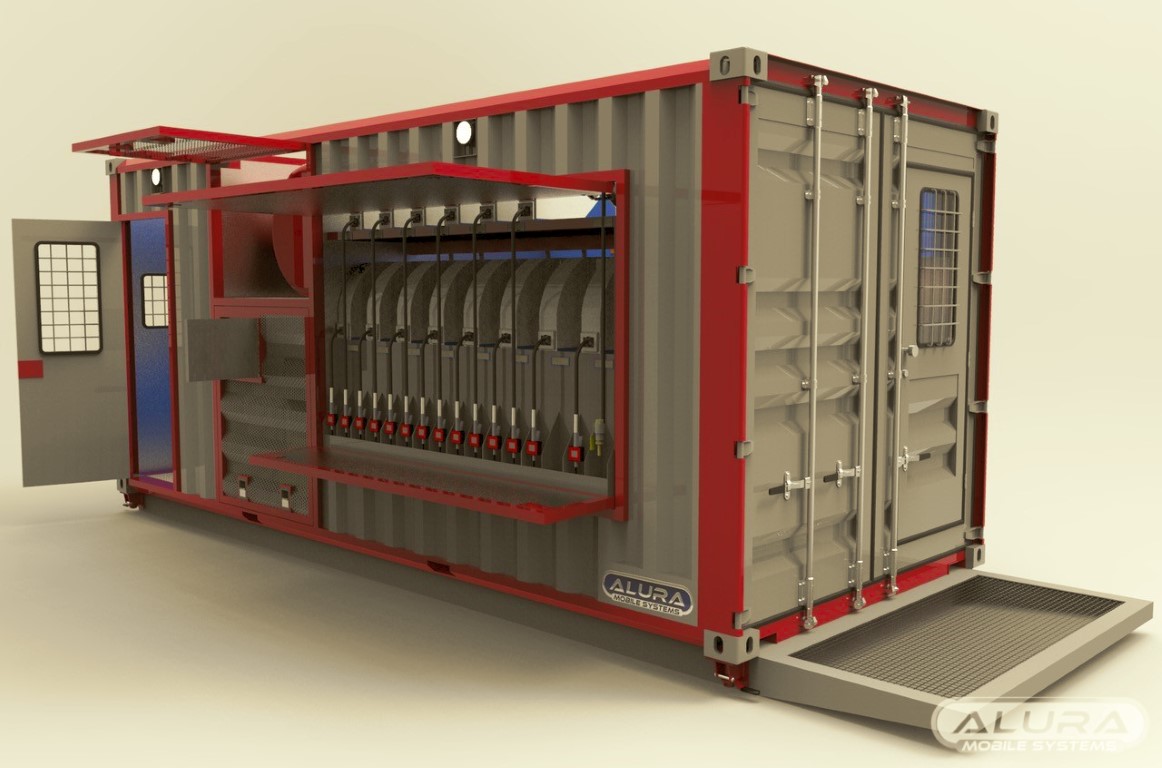 COMPARTMENT N°1: (Office, depot for tools and cloakroom) equipped by:
One (01) wardrobe (dimensions specified by the manufacturer).
One (01) set of complete tools (see list in appendix, from item 01 to 38), IZELTAS brand
One (01) desk with a fixing system
Padded stool with rotating seat and adjustable height.
Three (03) sliding drawers for documents
One (01) washbasin with a mirror, shelf, soap dish, towel hook and electric water heater with 10 liters capacity.
Below the ceiling and between the sink: two (02) plastic potable water tanks (02 tanks of 50 l each) with a filling cap from the outside.
One (01) tank to collect used washbasin water 100 liters capacity on the floor with drainage outside the container
One (01) tropicalized mono block conditioner
One (01) access door from the outside.
A portable microphone (laptop) and inverter
COMPARTMENT N°2 (Machine rooms generator and compressor)
Aeration by moving grids on the two sides of the container
Generator exhaust gas is evacuated out of the container
COMPARTMENT N ° 3 (Tanks/pumps/ Hose reels):
One (01) double door.
One (01) lateral window opening at 90 ° upwards by telescopic pneumatic rod and equipped with a mechanism of safety mechanical locking reserved to the reels for the distribution of different oils and greases.
Recovery system of the used oil towards the tank with capacity of 1000 liters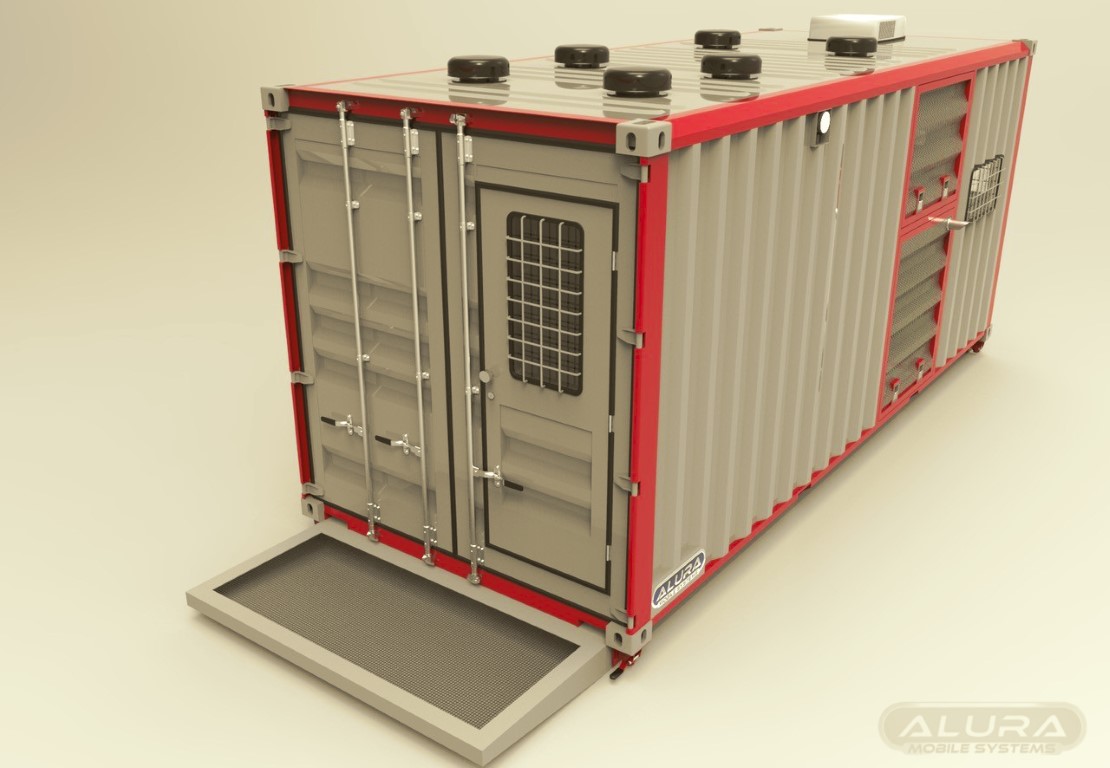 PUMPS

Designation

Quantity

Water pump, operated with compressed air

Pressure ratio : (1 : 1)

Max air supply pressure : 08 bars

Min Air pressure : 02 bars

Max water supply pressure : 10 bars

Nominal flowrate : 70 l/min

Completed water pump with hoses and quick coupling (quick coupling for air intake, suction connections and water delivery…), and pressure regulator

01

Oil pump, operated with compressed air

Pressure ratio : (3 : 1)

Max air supply pressure: 08 bars

Min air pressure: 04 bars

Max oil supply pressure: 24 bars

Nominal flowrate : 20 l/min

Hoses set, air and oil connections and pressure regulator for each pump.

08

Oil pump, with pressure regulator

As replacement pumps (replacement of item 02) without connecting hoses

04

Oil piston pump with

Pressure ratio : (1 :1)

Nominal flow : 35 l/min

10 m f hose with pressure regulator rolled on a fixed support and gun.

01

Oil pump, operated with compressed air, for drum 200 L

Pressure ratio : (1 : 1)

Max air pressure : 08 bar

Min air pressure : 02 bar

Flowrate : 70 l/min

Hose connection set, dip tube suitable for 200 liters drum and pressure regulator.

Automatic hose reel for oil with 10 m hose and gun.

01
TANKS

Designation

Quantity

Oil tank

One (01) x parallelepiped tank for used oils

Capacity : 1000 liters

4mm of thickness: steel sheet

Man hole, breather

Hose for pneumatic pump and discharge hose.

01

(08) parallelepiped tanks for new oil :

Capacity: 200 liters.

4mm of thickness: steel sheet

3 '' diameter loading mouth with cap, breather

Hose for pneumatic pump and discharge hose.

08

Water tank

(01) Galvanized tank

Capacity: 500 liters

4mm of thickness : steel sheet.

Features a loading cap, breather and discharge hose.

01

(01) Cooling water tank

Parallelepiped tank

Made of 4 mm thick AISI 304 stainless steel sheet for coolant.

Capacity: 300 liters.

Includes filler tube with cap, breather and discharge hose.

01

Fuel tank

(01) parallelepiped fuel tank

Capacity:100 liters

4mm of thickness: sheet steel.

Includes loading hose, breather and discharge hose.

01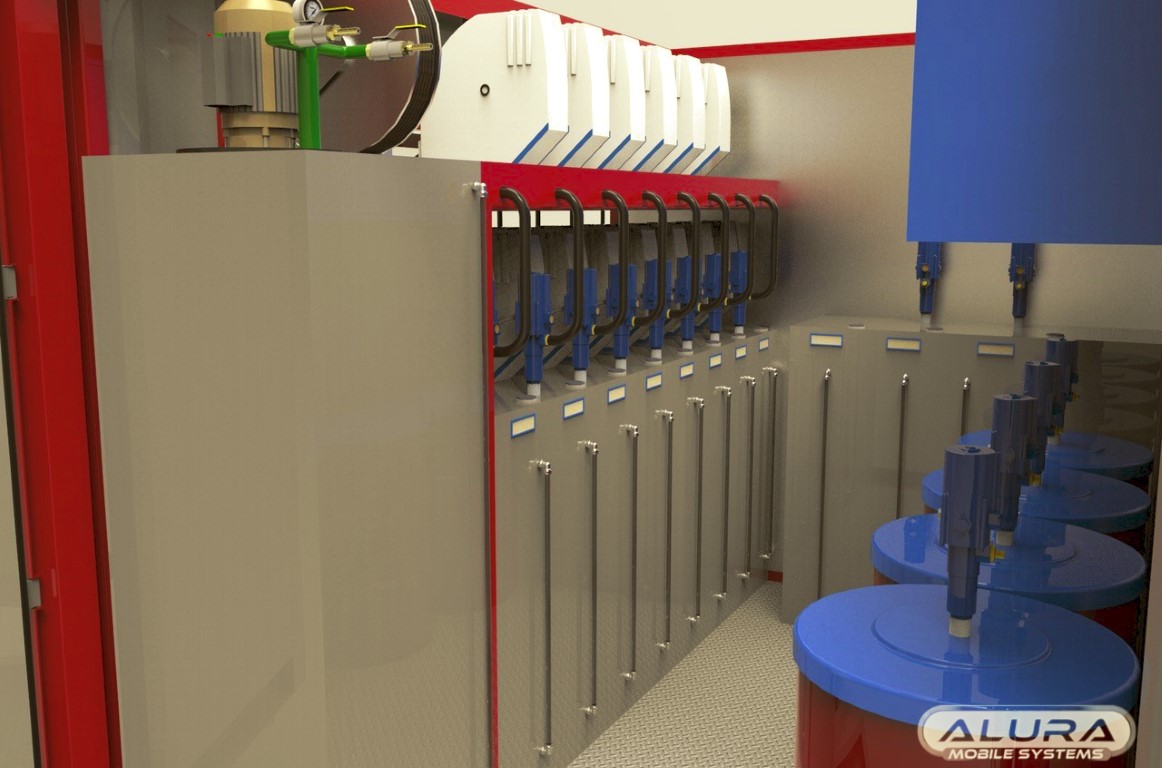 HOSE REELS

Designation

Quantity

Hose reels with automatic oil system

Length = 15 m of hose.

Dispensing gun with digital counter max flow 35 l / min with flexible end and semi-automatic anti-drip nozzle

08

Hose reels with automatic grease system

Length = 15 m of hose

High pressure grease gun and accessories

04

One (01) hose reel with automatic water system

Length = 15 m of hose.

Low Pressure Distribution Gun.

01

One (01) hose reel with automatic system for compressed air

Length = 15 m of hose for compressed air with:

- A blowgun with aluminum spray nozzle.

- A tire inflation gun with pressure gauge.

01
TOOL LIST
| | | |
| --- | --- | --- |
| Item | Designation | Quantity |
| 01 | Mixed wrenches 13-14-17-19-21 to 25-32 | 01 |
| 02 | Adjustable wrenches 8'' and 10'' | 01 |
| 03 | Ratchet ½ "extension ½": 250 mm | 01 |
| 04 | Sockets ½ '' 13-17-22-24-30-32-34 mm | 01 |
| 05 | Screwdriver for slotted screws 3.5x100, 5.5x100mm | 01 |
| 06 | Slotted screwdriver 6.5x 100, 8x 200 mm | 01 |
| 07 | Screwdriver Pozidriv PZ 1 to 4 | 01 |
| 08 | Screwdriver Torx N° 20, 25 et 27 | 01 |
| 09 | T-handle screwdriver | 01 |
| 10 | Crank wrench 8, 10 and 17 | 01 |
| 11 | Torx wrenches T8, T10, et T15 | 01 |
| 12 | Locking pliers | 01 |
| 13 | Coated universal clamp | 01 |
| 14 | Clamp | 01 |
| 15 | 32 mm riveting hammer | 01 |
| 16 | Burin | 01 |
| 17 | Burette | 01 |
| 18 | Magnetic finger | 01 |
| 19 | Sockets for spark plugs of 14 mm 3/8 '' - 90 and 250 mm | 01 |
| 20 | Sockets for spark plugs of 16 mm 3/8 '' - 90 and 250 mm | 01 |
| 21 | Articulated wrenches for 16 mm-short and long candles | 01 |
| 22 | Articulated wrenches for 21 mm-short and long candles | 01 |
| 23 | Spark plug wrenches | 01 |
| 24 | Ratchet (palm of hand) | 01 |
| 25 | Candle support | 01 |
| 26 | Composition draining: magnetic key and tip | 01 |
| 27 | Extension | 01 |
| 28 | 3/8 '' universal joint | 01 |
| 29 | Long articulated ratchet | 01 |
| 30 | Wrench for self-tightening oil filter | 01 |
| 31 | Automatic oil filter wrench | 01 |
| 32 | Oil filter wrench Ø 76 mm | 01 |
| 33 | Oil filter wrench Ø 86 mm | 01 |
| 34 | Oil filter wrench Ø 96 mm | 01 |
| 35 | Thickness gauge 19 blades | 01 |
| 36 | Lime tool | 01 |
| 37 | effort Lever | 01 |
| 38 | Cross wrench | 01 |